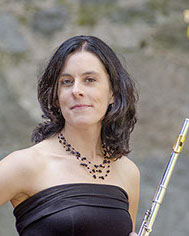 Bonnie L. Cochran performs regularly throughout New England with chamber ensembles, orchestras and musical theater productions. An avid chamber musician, Bonnie performs with The Amaryllis Chamber Ensemble, the Cochran-Wrenn Duo and Chamber Music MetroWest. She has been pleased to perform at the Ogunquit Chamber Music Festival and First Night Boston as well as performing the CPE Bach Concerto in D Major in Nashville as a winner of the National Flute Association's Convention Performer Competition. She has recorded CD's with harpist Sarah Manning and Willow Flute Ensemble. Her primary teachers have included Linda Toote, Elinor Preble, Paul Brittan and Cindi Keller. Bonnie holds a MM in Flute Performance from The Boston Conservatory and BA's in Music and Religious Studies from Agnes Scott College. In addition to performing, Bonnie teaches flute lessons and composes. Her compositions have been performed in Atlanta, Boston, Cape Cod, Washington State and New York, including a world premiere performance at Carnegie Hall.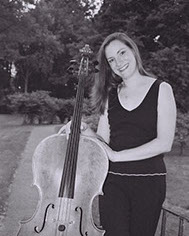 Kate Ellingson, cellist, holds a Master of Music and Graduate Performance Diploma from The Boston Conservatory as well as Bachelor's degrees in Music Performance and Education from the University of Houston. Her principal teachers were Ronald Feldman, Andrew Mark, Laszlo Varga, and Anthony Elliott. Originally from Iowa, Ms. Ellingson remained in Texas after her undergraduate studies and taught middle school orchestra, maintained a teaching studio, and was an active freelancer in the greater Houston area. Currently residing in Boston, Ms. Ellingson performs chamber music regularly with the Amaryllis Chamber Ensemble and freelances in the Boston. She has served as Principal Cello with both the Boston Civic Symphony and the New Bedford Symphony, and has performed with the Boston Modern Orchestra Project and the Boston Classical Orchestra. Currently, Ms. Ellingson teaches cello lessons in the Welleslely Public Schools and in her home studio. In addition to her performing and teaching endeavors, Ms. Ellingson works part-time for the Boston Lyric Opera as their librarian and previously worked for 12 years at the Boston Symphony and Boston Pops as an assistant music librarian.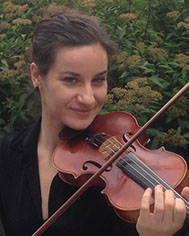 Mina Lavcheva, violinist, is a native of Sofia, Bulgaria, where she graduated from the National School of Music "L. Pipkov". An active performer from an early age, Mina has appeared as a soloist, chamber and orchestra player throughout Europe and North America. She holds a Bachelor and a Master Degree in Music Performance from LSU School of Music and Boston University respectively. Mina is a sought-after and frequently engaged artist by numerous chamber and orchestral ensembles in the New England area. Currently, she can be heard performing as a member of the Portland Symphony Orchestra (Maine) and Rhode Island Philharmonic, as well as Boston Modern Orchestra Project. Mina has also appeared in performances with Vermont Symphony Orchestra, Handel and Haydn Society, Arcadia Players, Odyssey Opera, to name a few.
Merrick Nelson started playing viola at the age of ten, studying privately with Alan Arnold in Saratoga Springs, NY. While studying with Mr. Arnold, Merrick won the Saratoga Springs Youth Orchestra Concerto Competition and performed with the orchestra at Hubbard Hall in Cambridge, NY. During his senior year of high school, Merrick won a position with the Glens Falls Symphony, where he performed under the direction of Maestro Charles Peltz. Mr. Nelson has performed with many ensembles in the Boston area, including the Brookline Symphony and the Boston Philharmonic. He was also the principal violist for the 2009 New England Conservatory Festival Orchestra that performed at The Vatican under the direction of Maestro Helmuth Rilling. He completed degrees in viola performance at Boston University (BM, summa cum laude), and New England Conservatory (MM) where he studied with Professor Michelle LaCourse and Carol Rodland respectively. Mr. Nelson has attended the Heifetz International Music Festival and the Bowdoin Music Festival, and has had the privilege of performing in master classes for such great artists as Karen Tuttle, Kim Kashkashian, and Roger Tapping. Mr. Nelson plays on a 1990 Nicholas Frirsz viola.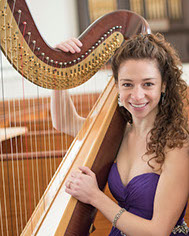 A native of Harvard, Massachusetts, harpist Maria Rindenello-Parker was a prize winner in the Advanced Division of the American Harp Society's 18th National Competition. In May of 2013 she received her Master of Music degree from New England Conservatory in Boston, where she also received her Bachelor of Music degree under the tutelage of Dr. Ann Hobson Pilot. In the spring of 2011, Maria was featured alongside Dr. Pilot on a WGBH radio program about Pilot's groundbreaking career as a member of the Boston Symphony Orchestra and teacher. Since 2010 Maria served as Principal Harp with Discovery Ensemble, Boston's highly-acclaimed chamber orchestra. Maria has participated in the Boston University Tanglewood Institute, the Aspen Music Festival, and the Bowdoin International Music Festival. She is an active freelancer in New England, studio recording artist for film and video game scores and has performed with Callithumpian Consort, the Cambridge Symphony Orchestra, the Cambridge Community Chorus, and other greater-Boston area ensembles. After a year of training at Lyon & Healy Harps in Chicago, Maria has recently become the newest member of the Lyon & Healy/Salvi Harp Technicians Guild.
© 2017 The Amaryllis Chamber Ensemble
Photos by Emily Ashman, JP Langlands, Hayley Liebmann and Andy Ellingson